2018-09-14
Low maintenance / High reliability - Encoders & Slip Rings
OEM Automatic is the UK partner for Kübler's entire product range.
By working with Kübler through OEM Automatic you are effectively working directly with the manufacturer, receiving expertise and support.
The packaging industry is one of strength for OEM Automatic and Kübler.
We hold many success stories involving packaging machinery, thanks largely to the three product areas below.

1. Incremental and absolute singleturn, multiturn and fieldbus encoders
Whether you are looking for interference-free positioning or controlling in real-time, as a result of their ingenious safety concept, their extremely rugged technology and their compact construction, Kübler encoders make a significant contribution to the reliability of plant and machinery.
The sturdy bearing construction in Kübler's Safety-Lock™ design provides extra strong outer bearings in order to increase the service life of the encoder, as well as avoiding costly down time and repairs.
OEM Automatic has a vast experience with applications involving encoders of all types and has the expertise to help specify the right encoder, supplied at the right price.

2. Incremental and absolute bearingless encoders

Thanks to their technology, the magnetic bearingless encoders are almost wear-free and at the same time very robust. With their reduced mounting depth of only 10 mm, bearingless encoders are particularly compact and can be mounted quickly and easily on shaft diameters up to 390mm.
These can be used in a wide variety of applications, from drive technology to wind power plants; yet we have also seen great success whilst using them for position feedback within the packaging industry.
These encoders are not strictly just for rotating applications. They can also be used in a linear motion to determine linear position.

3. Slip Rings
Innovation meets tried and tested product quality and compact dimensions: the new Kübler slip ring generation brings together a number of performance features under one range. From packaging machinery and cranes, through to rotary tables and robotic handling equipment, slip rings are able to transmit power, signal or data from a stationary to a rotating platform. Versions are also available for field bus signals such as Profibus or CANopen®, as well as for Ethernet transmission.
The SR060E has been specifically developed by Kübler for the flow-wrapping industry. It's compact, economical and can handle up to 3 power and 2 signal transmissions. It has also been created using new innovative contact materials to ensure a long service life with extremely low maintenance.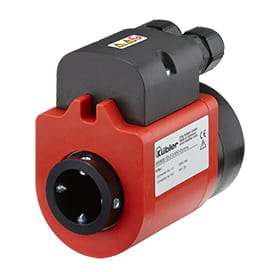 For any further information, or if you have an application to discuss please contact our Sensors & Safety team on 0116 284 9900 or email [email protected]
Product news