2019-08-01
OEM Automatic Celebrates 30 Years
OEM Automatic Ltd, one of Europe's leading suppliers of components for industrial automation, is celebrating its 30th anniversary. To mark this milestone, the company's Managing Director, Richard Armstrong, has invited all 50 staff to join him in a weekend of festivities at Centre Parcs in Woburn.
"I am very proud of our achievements over the last three decades which are testament to the commitment and expertise of our staff, both past and present," comments Richard. "Our company celebration will be an opportunity to reflect on our history and look forward to our future.
"We have cemented our success with loyalty and partnership agreements with many of the industry's leading manufacturers. These have enabled OEM to build strong, long-term relationships and offer a comprehensive range of products.
"This has culminated in the company's unique offer: high quality products sold by technically experienced product specialists, backed by fast, accurate service from UK stock."
Increased stockholding and future growth
Richard continues, "To maintain our first class customer service, in the near future we plan to invest in further vertical storage machines which will increase our stockholding capacity. We are committed to carrying more stock in our UK Leicester warehouse in order to secure swift, on time deliveries to satisfy our customers.
"We will also be actively investigating the possibility of further acquisitions to drive growth and continue to broaden our product ranges."
A brief history of OEM
The UK company was established in Nuneaton in 1989 by Hans Franzen, who also co-founded OEM Automatic's parent company, OEM International, in Sweden in 1974. Hans moved to the UK to oversee the launch of the business - OEM's first market outside Scandinavia.
By 1992 the sales target of £1m had already been achieved and major new suppliers, Releco and Suco, were added to the company's rapidly expanding portfolio of market leading products.
Larger premises were required in 1994 and OEM Automatic moved to new premises in Whetstone, Leicester. Baco became an important supplier and the company expanded its product offering with electronic products and motors. Rapid growth followed and five years later another move was required. This time the company didn't move far, remaining in Whetstone – to the current site on Whiteacres.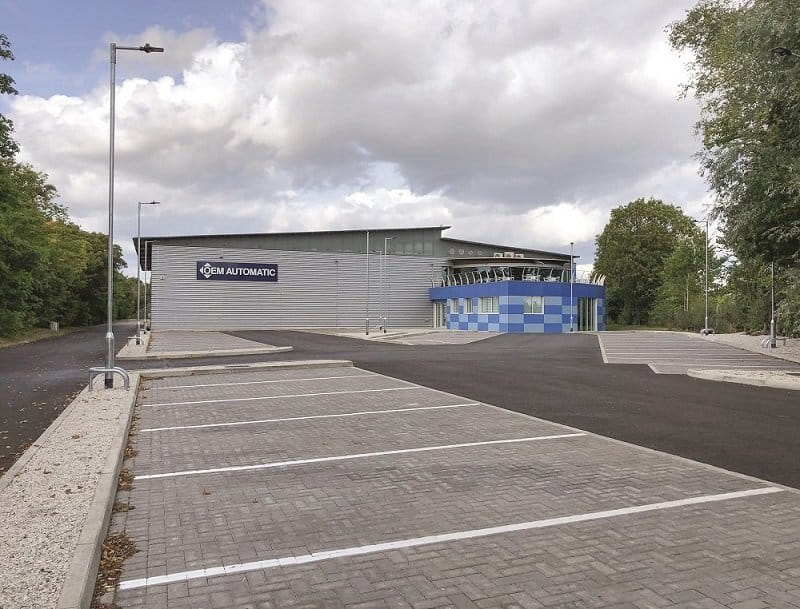 Organic growth, strategic acquisitions and partnerships
Strong organic growth led to a major turnover milestone of £5m in 2007. Several strategic acquisitions followed - Echobeach in 2010 complemented the company's product range with terminals and Datasensor UK in 2012 significantly broadened the sensor and safety product portfolio.
A state of the art warehouse and UK office
In 2013 OEM completed a multi-million pound redevelopment of the 1,000m2 warehouse at the company's UK facility in Leicester. A significant element of the renovation was new technology which transformed the storage capability of the facility.
Investment in six vertical automated storage systems which replaced the existing warehouse racking, has facilitated storage of over 8000 lines. This high tech storage and retrieval solution ensures next day delivery of products to customers.
New workshops have also been built inside the warehouse to provide a professional environment for the company's added value section. This has proved to be a big growth area for OEM, starting the production process to help customers streamline their purchases.
Sales turnover soared to £10m in 2016 and work began on a major UK office refurbishment; the impressive new offices and panoramic canteen complex were completed in 2018.
Quality products combined with technical expertise
To provide the best possible service to its customers, OEM's comprehensive range of products is divided into five industrial automation business areas: Panel, Pressure & Flow, Sensors & Safety, Motors, and Machine Vision & Identification.
Each business area has its own sales, product and customer support staff, all with specific industry expertise. Categorising its offering in this way enables OEM staff to provide customers with the optimum technical and commercial solution. It has also contributed towards the success of the company which is on target to achieve a turnover of £12m for 2019.
Local charity support
OEM Automatic has named LOROS Hospice as its nominated charity for the second year running. LOROS is a local Leicester charity which cares for over 2,500 people across Leicester, Leicestershire and Rutland.
In addition to its annual contribution of £5,000 to the charity, OEM has donation stations positioned around the company's UK office. The resulting funds are sent to LOROS together with all monies raised by the staff at various events during the year.
Working together to add value
Richard Armstrong concludes, "As we celebrate our 30th year, our aim is to add further value to our customers' products and processes; for our suppliers, our aim is to continue to create value by being the best option for their UK distribution channel.
"But above all, our goal is to make working with OEM Automatic easy and enjoyable, not only for our manufacturing partners, but also for our customers."
Company news